Hello everyone! So today I've got a nail design to show you

it isn't that complicated like it looks though, and this design won me lots of compliments throughout the day! One of my tutor wanted to take a pic of my nails and show it to her daughter because her daughter was interested in nails as well. (I didn't let her take a photo of my nails afterall because I was so embarrassed!) Haha!
As usual, I'm not the original creator of this design! I followed this tutorial from cutepolish@Youtube!

Subscribe to her if you haven't! I always love her simple and beautiful designs!
The base colour that I'm using is OPI Play The Peonies. I'll talk about this shade more in upcoming entries! The rest, I used my striper polishes from Color Club and Art Deco so nothing special there! Except that for the dots, I used OPI Suzi Skis In The Pyrenees.
I like how each nail is a different design that I spun off from the top of my head! (except my pointer finger of cause! I copied the exact design from the tutorial) I don't really like how it turned out at first because it looks pretty neat from far but when I zoomed in… all I can see was messy slanted lines and irregular dots :/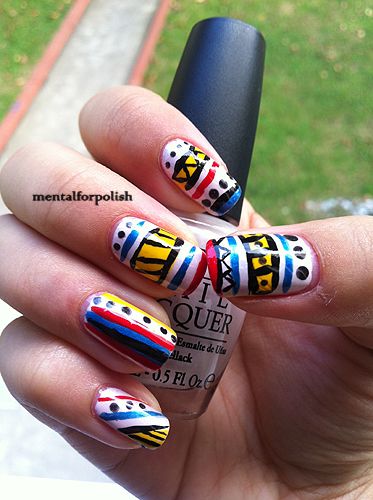 I've been sourcing for goodies for my giveaway and I'm excited!!!!!!
hopefully I can reach 50 subscribers fast so that I can release the details soon! <3